Canada is celebrating their second annual Fraud Prevention Month this March. This campaign was created to bring awareness about fraud such as, "online shopping scams and deceptive practices, including non-delivery of goods, subscription traps and fake online reviews" (Competition Bureau Canada). Fraud is not just an online issue though, if documents from businesses get compromised, they can be used to ruin partnerships, disrupt investments, and could ultimately change the public's perception of your business. This means that people and businesses need to carefully control all of their personal and customer data.
With fraud being an issue that happens every 15 seconds, it is incredibly important for all people to take the necessary steps to prevent it from happening to them. First and foremost, however, it is incredibly important to understand what fraud is.
There are many ways that fraud can happen, one of the most prominent being identity theft. Identity thieves can obtain information in many different ways such as dumpster diving for credit cards, bank statements, and tax information. Identity theft can also happen when fraudsters steal electronic records through a data breach. Another common form of fraud is lottery fraud where people receive emails or mail saying that they won the lottery, a sweepstake, or a drawing. People then are required to enter their card information or pay cash when ultimately there was no reward to be won.
The goal of these thieves is to make profit by draining people's funds by using a fake name. The most vulnerable targets for fraud are elderly people and college students – but it can always happen to anyone… at any given second.
Fraud is a devastating situation that causes real and unfixable impacts for the victims. Fraud can be detrimental for families and in some cases have left people with nothing. This trauma can be physical and mental, and many times results in the loss of plausible opportunities for individuals and businesses.
Although this is true, there are many ways that fraud can be actively avoided.
If you believe that you are a victim of identity theft, freeze your debit card so it cannot be used any longer.
Check the licensing of anyone that you are doing business with.
Do not participate in giving money to an organization that only accepts gift cards, wire transfers, or cash.
Never send money to claim a lottery or sweepstakes prize. If you truly believe you won something, then do in depth research of the company that is rewarding you.
Do not give personal information (social insurance number or debit/credit card information) to anyone over the phone, through email, or via text.Destroy any banking information that could potentially have sensitive information on it.
So as fraud prevention month quickly comes to an end, it is important to remember that everyone is at risk, and it is important to protect yourself from the potential negative implications. We hope that you consider the benefits of practicing some of these few simple steps to keep you, your family, or your business safe…
…PULP SHRED can be your solution!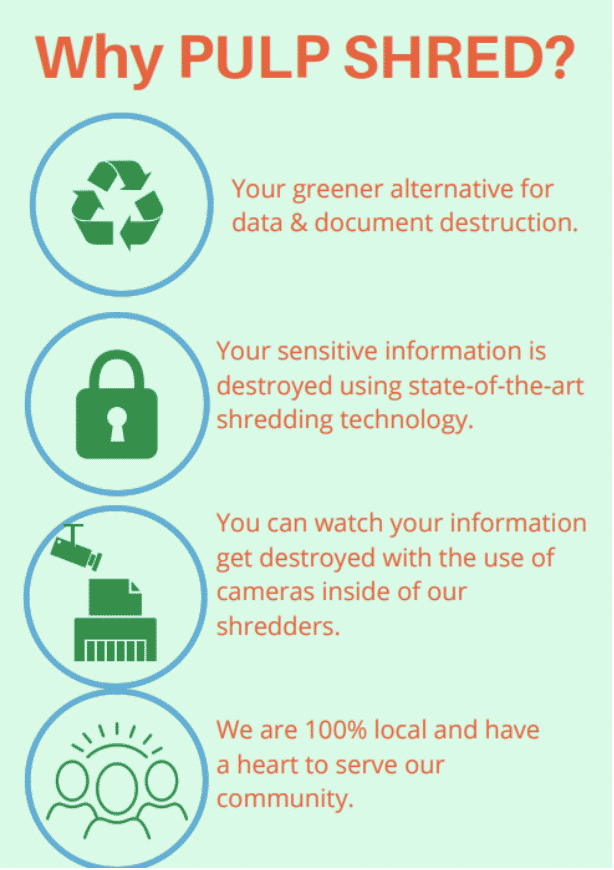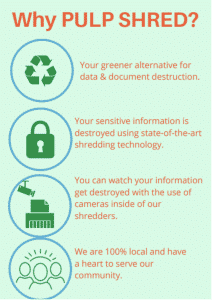 We are your greener alternative for document destruction. We shred items such as paper, hard drives, and products to help preserve the integrity of your sensitive documents and information. PULP SHRED works hard to be your better solution to fraud and here is how:
Greener Alternative: We are committed to zero-landfill paper waste and all of your paper is baled into new products. Furthermore, we shred your documents at a secure facility using all electric machines. This is better for the environment and prevents the spread of paper dust which can be harmful. It is time for everybody to be aware of the environmental implications of their decisions, and we have worked to be the better choice for document destruction.
Security: Your security is a foundational value of ours at PULP SHRED. We provide a closed-loop solution when shredding your confidential documents. At our PULP SHRED shredding facility, we use state-of-the-art shredders with secure video verification of the shredding process. This means that you can view your document getting destroyed, hopefully creating peace of mind for you.
Community: 100% local to Calgary and have a heart to serve the community. As a small and growing business, we rely on and value your support! PULP SHRED partners with various local nonprofits and charitable associations because we value giving back to the community. Throughout the year, we host various shredding events, not only to bring awareness, but also to raise money for local charities.
There are many negative implications of fraud, but there are also many solutions. We hope to be your greener, go-to solution for document deconstruction!
For more information, please visit our website at www.pulpshred.com