Confidential Documents Destruction
Confidential documents are created in a wide range of business, resulting in high value sensitive information. This could be financial data, employee records, legal documents, business contracts and agreements, marketing and sales plans.
Any mishandling of these confidential documents could cause loss of repute, lawsuits or other such severe complications. This is one of the most important reasons why documents must be handled sensitively by shredding them.
At PULP SHRED, all kind of paper and documents go into our tamper-proof containers with a security seal to safeguard against unlawful access. 100% of the paper is then destroyed and baled, processed, and converted into new paper products, such as printer paper, paper bags, facial tissues, toilet rolls and newsprint.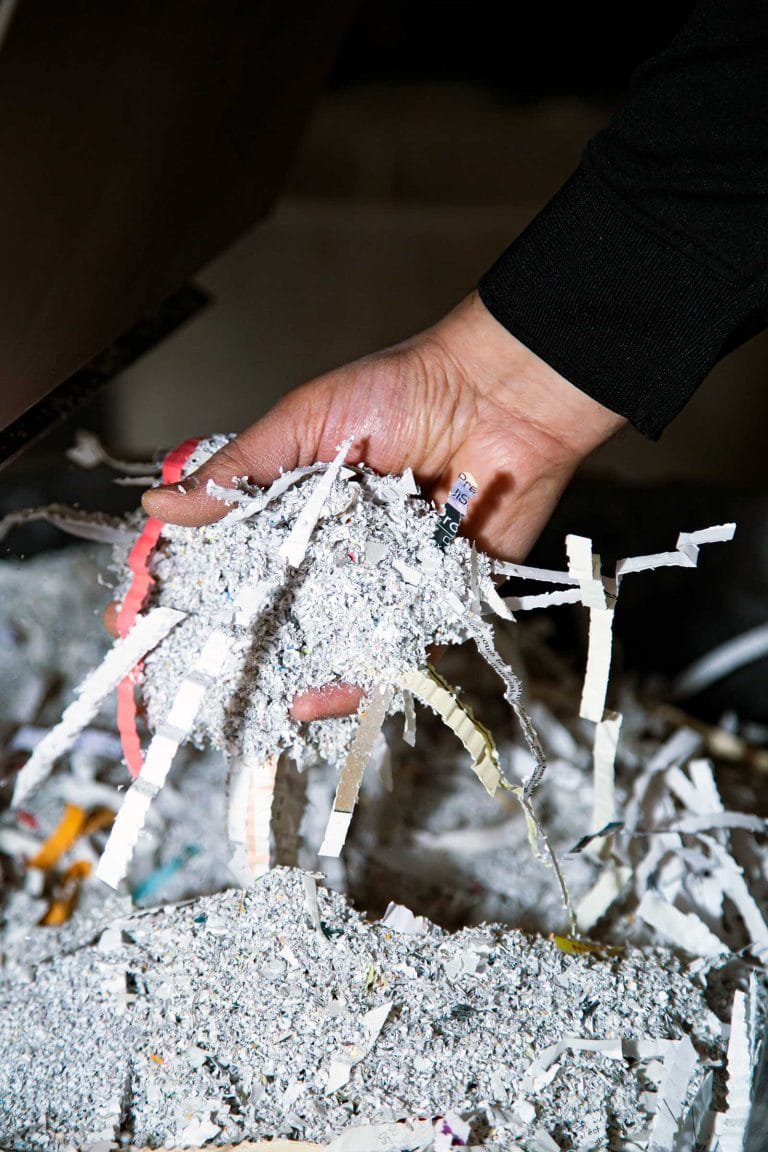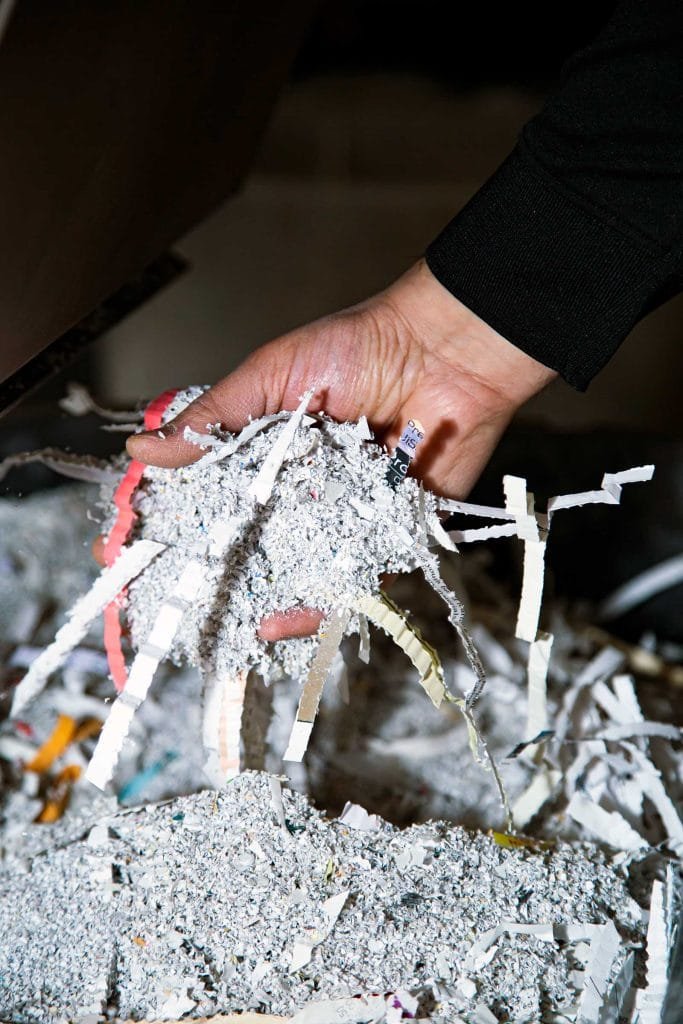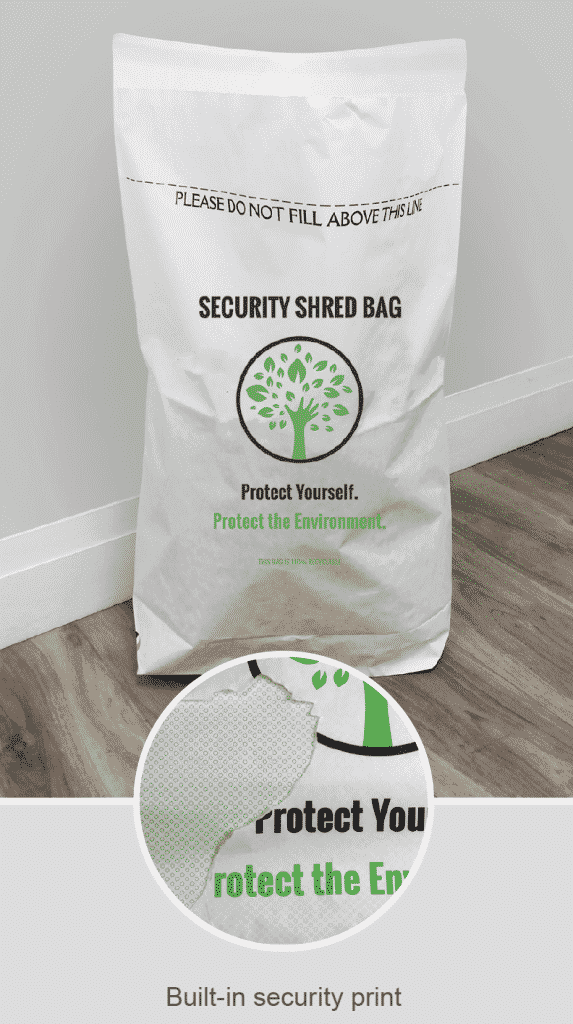 No need to box up all your files
No more calculating weight of paper to figure out shred costs
No more lineups for dropping off
No more leftover boxes for recycling
No fighting with your home shredder
Convenient self-sealing bags
Now offering a universal, prepaid bag that is designed to collect your confidential information. These bags come with SECURITY BUILT RIGHT IN with a separate layer of security print. This security keeps confidential information private until time of shredding.
The bags are manufactured using sustainable forests and are 100% recyclable.
Great for moving, home offices, tax time, charitable fund raising, drop-off on the go, and anyone looking to get rid of old files.
Customized Shredding Solution for Home and Business Customers
Individuals
Home Offices
Small Business Owners
Oil & Gas Companies
Engineering, Technical Laboratories & Consulting Firms
Retail, Warehouses, Depots
Hotels, Motels
Government Agencies, Police, Fire Department, EMS
Non-Profit, Charities, Religious Institutions
School, Universities and Professional Colleges
Financial Institutions: Banks, Credit Unions, Insurance, Financial Planners
Healthcare: Hospitals, Pharmacies, Clinics, Dentists, Labs, Professional Offices
Registries, Land Titles
Land Developers, Construction Companies, Real Estate Firms
Urban Planning, Design & Architectural Firms
Professional Firms: Lawyers, Accountants, Tax, Consultants
RESIDENTIAL
RESIDENTIAL SHREDDING SERVICE: for affordable, convenient and secure drop-off and pickup service, freeing up your residential space
COMMERCIAL
COMMERCIAL PURGE SHREDDING SERVICE: for one-time document clean-out/purge of your archival records, freeing up your valuable office space
PULP SHRED Container Types:
26-Inch Desk Consoles with Inbuilt Lock (for Paper, Empty Plastic Rx Vials, Hard Drives)

36/40-Inch Executive Consoles with Inbuilt Lock (for Paper, Empty Plastic Rx Vials, Hard Drives)

32-Gallon Totes with Padlocks (for Paper, Empty Plastic Rx Vials, Hard Drives, Electronics)

64/65-Gallon Totes with Inbuilt Lock (for Paper, Empty Plastic Rx Vials, Hard Drives, Electronics)
PULP SHRED provides secure shredding & general recycling solutions to residents, small home-based businesses, and large corporations. From regular reoccurring services to one-time pickups, or purges of materials. 
No job too small!
No job too big!
Closing your business, re-locating, or simply cleaning your office space? PULP SHRED can help!
From a few boxes to pallets full of boxes for shredding or recycling, we do it all. Call us for a free quote today!