Confidential Document & Data Destruction in The Calgary Region.
To-Date PULP SHRED Has Saved:
Committed to Zero-Landfill Paper Waste.
Calgary Region's greener alternative for confidential document & data destruction – committed to zero-landfill paper waste. 100% of your shredded paper is baled and recycled into new products, thereby supporting the circular economy, and creating local jobs! 
A multi-award-winning local company providing affordable, convenient, and secure drop-off and pickup shredding service in Calgary, Alberta, freeing up your Residential & Commercial space. 
PAPER SHREDDING
Confidential documents are created in a wide range of businesses, resulting in high value sensitive information. Get it securely shredded with PULP SHRED today!
HARD DRIVE DESTRUCTION
PULP SHRED offers secure destruction service to help you safely dispose of your discarded IT assets. Get it securely shredded with PULP SHRED today! PRODUCT DESTRUCTION
Secure product destruction helps safely dispose of items. Uniforms, employee cards, packaging materials, x-rays, marketing materials & advertising etc. COMMUNITY SHRED EVENTS
Our Shred Events are a fun, creative, & easy way to help your local community centres, create awareness about your cause, and raise some dollars for your local charities.
PAPER RECYCLING
Help reduce the amount of paper that goes into the landfills by recycling.
CARDBOARD RECYCLING
Not sure what to do with your boxes? Get it recycled with PULP SHRED today!
Electronic Recycling
PULP SHRED provides convenient drop-off and pick-up e-recycling solutions.
PULP BOXES
Standard size Kraft file boxes.100% recyclable and with lid attached and security holes for locking the boxes with security ties.
SECURITY SHRED BAGS
Prepaid dual-ply shred bag that is designed to collect your confidential information. These bags come with SECURITY BUILT RIGHT IN.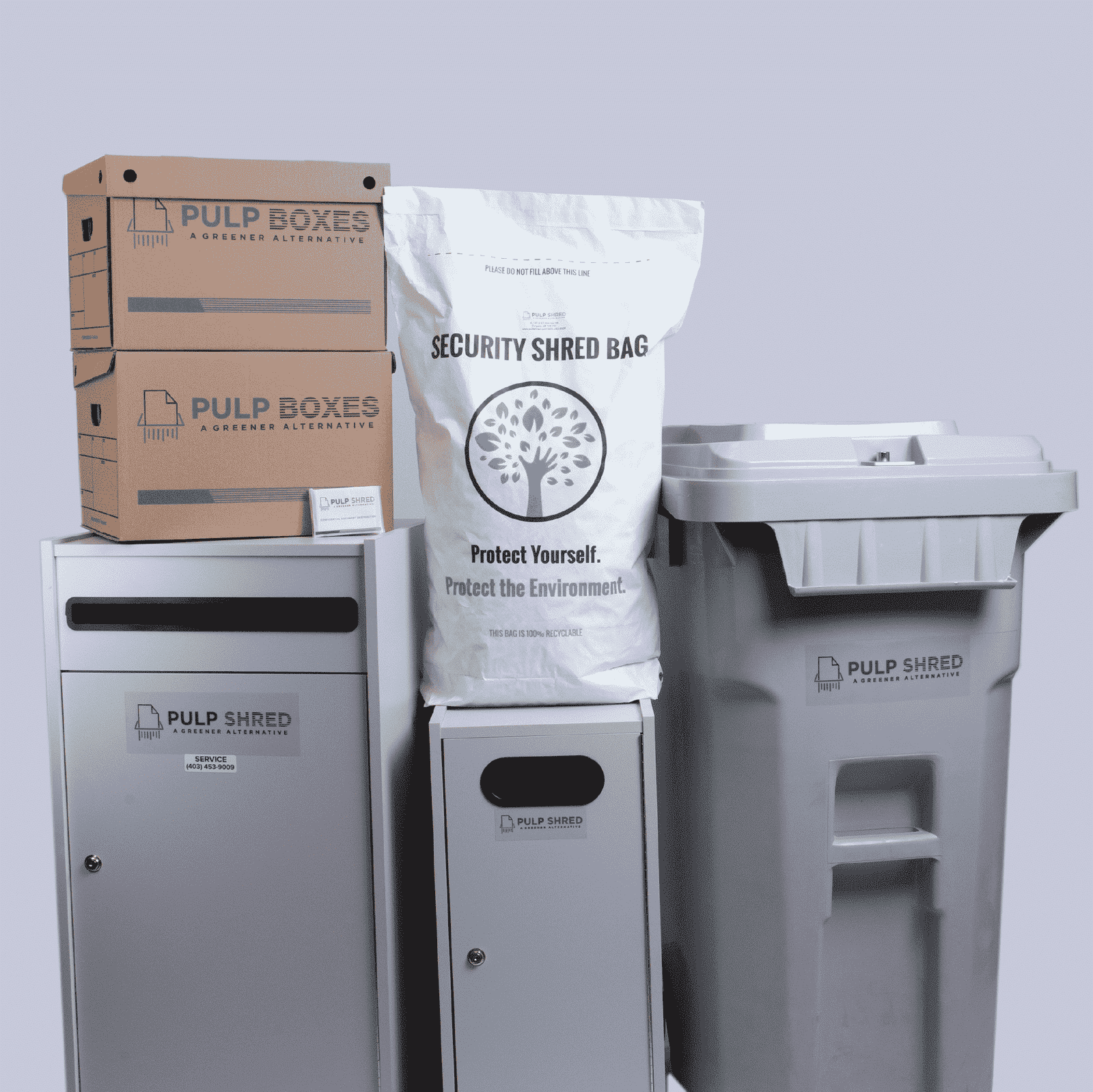 Other Products
From Kraft file boxes to moving boxes and packaging supplies, we've got it all. Many of our products are recycled thereby encouraging circular economy.
PULP SHRED aims to honour your "green commitment" and strengthen your brand's image by implementing a shredding program. We partner with like-minded companies/individuals that:
understand their legal and fiduciary duties;
are equally passionate about the environment; and,
believe in & promote local businesses.
Customer Satisfaction & Trust.
Customer satisfaction is paramount to our success. Customer service is at the heart of everything we do at PULP SHRED. We take great pride in our customer service and the PULP SHRED team strives to create high customer satisfaction standards every single time. We exist because of our patrons' support. Our customers are the reason, we get to fulfill our zero-landfill paper waste commitment every single day.
We take a partnership approach with our customers and treat them as family. It may sound cliché but that is exactly how we treat them.
Our Customer Service Promise:
Customers are treated fairly, equitably, and respectfully.  

Customers are provided professional, reliable, and secure confidential shredding services. 

Customer concerns are resolved in a reasonable time and responsible manner.

Positive: Professionalism, Quality, Responsiveness, Value
Very impressed with the environmental aspect of this company .. nothing goes to the landfill. Staff are very kind and welcoming. Highly recommended!

Positive: Professionalism, Quality, Responsiveness, Value
I wholeheartedly recommend PULP SHRED for all your shredding needs! When I needed shredding done, I first called a large, well-known company. The individual at the other end of the phone line was very curt, gave me a VERY expensive quotation and said it would be six weeks before they could come. I couldn't wait that long, so I looked further and contacted PULP SHRED. 

Positive: Professionalism, Quality, Responsiveness, Value
I would highly recommend PULP SHRED. This was my first time there and I I will continue to support this local Business. Ankur showed how their operations work and nothing goes to the landfill!! They provide many other services too! Green, Secure and affordable. Please shop and support Local..

We were with another company but their service has gotten worst, so we finally decide to look for a new company to do our shredding service. Pulp Shred was the best choice! They have given us a way better rate and also price matched the storage boxes with lid that we usually purchase from different company, and Pulp's was a better quality and it was good to know that they are environmental friendly. The service is always great, the people is very professional and friendly. They also drop off a Christmas gift which was very thoughtful.

After calling many other services in Calgary, only to find out that they weren't doing personal shredding, I called Pulp Shred. As an alternative to Staples, where I couldn't be assured of confidentiality, I was so happy that not only was my call answered immediately, but I was also able to take my shredding in on the same day. The service was professional, and I will be using Pulp Shred in the future.

Clearing up an estate this past summer, this was a great and economical way to safely dispose of old financial records. I've since used their bag shredding for our own records and it's a great way to stay on top of our paperwork.

I would highly recommend Pulp Shred for your shredding. They are very professional and make all attempts to keep all papers and boxes out of the landfill. They were the friendliest business and excellent to deal with.