Cyber criminals are always on the lookout for confidential data and information and digital media storage devices.
Your IT assets, such as hard drives, solid state drives, smart phones, USBs, CDs and DVDs are their common targets. Simply throwing them away or deleting the files is not enough to permanently erase data from such storage devices. The only way to be certain that the data contained on such devices is permanently gone is by shredding and destroying them. PULP SHRED offers secure destruction service to help you safely dispose of your digital media devices and content. This is done by properly & diligently following our IT asset disposition (ITAD) program standards to meet your disposal needs while maximizing the end-of-life asset value in a secure, efficient, and environmentally friendly manner.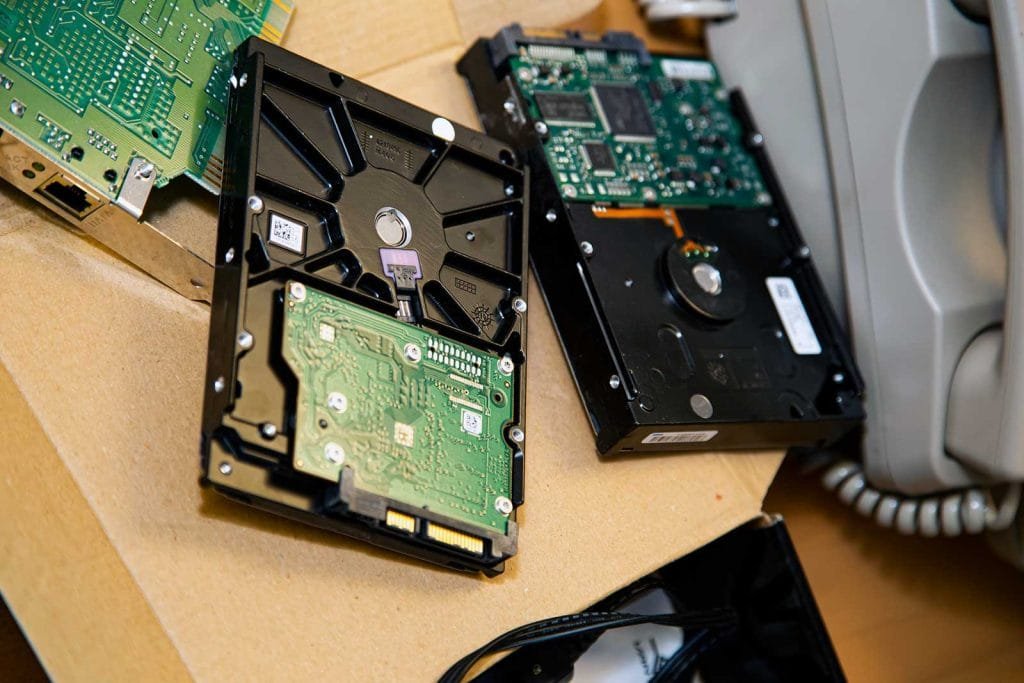 E-SHREDDING & RECYCLING MATERIALS ACCEPTED
E-Data Shredding
CDs

Computer Chips

Credit Cards

Diskettes / Floppy Disks

DVDs

Employee Cards

Hard Drives

Memory Cards

Microfiche

Smart Phones

Solid State Drives

Tablets

Tapes

USB Drives
Note: Securely shredding your e-data is the only sure shot way to keep your information from getting compromised and/or leaking into secondary markets.
Computer Equipment
Desktop Computers & Towers 

Laptops

Notebooks 

Servers

Tablet Computers
Note: All hard drives and solid-state drives should be removed and securely shredded before recycling.
PULP SHRED can remove the hard drives for you at an extra charge.
Other Eligible Electronics
Answering Machines

Camcorders

CD Players

Commercial Plotters

Computer Monitors & Screens

Desktop and All-In-One Printers 

DVD Players

Game Consoles

Keyboards & Mice

Large Multi-Function / Floor Model Printers

Microfiche Readers

Microwaves

Mobile Phones & Telephones

Network Equipment

Pagers

Photocopiers, Scanners, Fax Machines

Power Cords, Network Cables

Projectors

Small Appliances

Televisions 

Testing Equipment

Toners 

Uninterruptible Power Supplies (UPS)

VCR Video Recorders
E-RECYCLING MATERIALS
NOT

ACCEPTED
Materials Not Accepted
Alkaline Consumer Batteries

Biohazardous Materials

Chemical Waste

Dishwashers, Refrigerators, and Stoves

Fluorescent Tubes

Nickel Cadmium Batteries

Nickel Metal Hydride Batteries

Paint 

Tires 

Washing Machines and Dryers
Note: Our pickup services are available to commercial locations and are subject to a minimum product type and count. Please call our office for details.
Customized Shredding Solution for Home and Business Customers
Individuals
Home Offices
Small Business Owners
Oil & Gas Companies
Engineering, Technical Laboratories & Consulting Firms
Retail, Warehouses, Depots
Hotels, Motels
Government Agencies, Police, Fire Department, EMS
Non-Profit, Charities, Religious Institutions
School, Universities and Professional Colleges
Financial Institutions: Banks, Credit Unions, Insurance, Financial Planners
Healthcare: Hospitals, Pharmacies, Clinics, Dentists, Labs, Professional Offices
Registries, Land Titles
Land Developers, Construction Companies, Real Estate Firms
Urban Planning, Design & Architectural Firms
Professional Firms: Lawyers, Accountants, Tax, Consultants
RESIDENTIAL
RESIDENTIAL SHREDDING SERVICE: for affordable, convenient and secure drop-off and pickup service, freeing up your residential space
COMMERCIAL
COMMERCIAL PURGE SHREDDING SERVICE: for one-time document clean-out/purge of your archival records, freeing up your valuable office space